Digital Maturity Assessment
Assessing the Level of Your Digital Readiness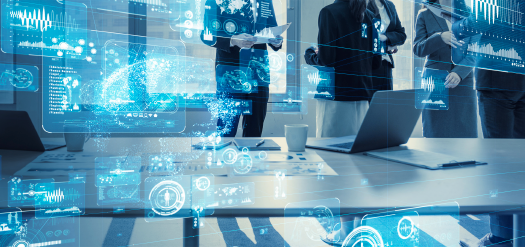 How effective is your Digital Transformation?
Are you seeing Digital Maturity in your organisation?
And, how balanced is it across your organisation?
If you are unclear about the answers to these questions, then you will need to consider applying the IKE Institute Digital Maturity Assured Framework® to help your organisation progress its digital maturity journey. The level of digital maturity gives an effective benchmark that provides an overall impression on the pace of digital transformation and adaption within an organisation and its business model.
Maturity is commonly understood as "a learned ability to respond to the environment in an appropriate manner".
The IKE Institute Digital Maturity Assured Framework can operate either as a self-contained assessment module or as an extension to the Investor in Innovations® Standard.
The IKE Institute Digital Maturity Framework (DMF) describes the following Digital Maturity Levels within an organisation or a business unit.
Figure 1
Digital Maturity Levels
The DMF provides an accurate overall view of an organisation's digital journey towards a "Digitally Optimised State" and identifies the efforts and related smart actions that it may need to be undertaken to progress its maturity state.

Figure 2
The IKE Institutes Maturity Assured Framework©
A Digital Strategy is a recursive process that supports an organisation to transition towards forming a coherent digital business plan to become digitally-centric through experimentation, iteration and adaption
The IKE Institute Digital Maturity Assured Framework's applies the following 6-categories in the assessment of an organisation or a specified business unit within an organisation:
Category 1 - Digital Strategy & Alignment »
Coherent Digital Strategy and Digital Business Model
Strategic Digital Goals and Operating Principles
Barriers and Risk Appetite to Improving Digital Maturity
Category 2 - Digital Organisational Readiness »
Digital Leadership and Digital Communications
Digital Learning (Culture, Mindset, Skills, Talent)
Agile Practices and Productivity Initiatives
Category 3 - Digital Enablement (Technologies, Capabilities and Processes) »
Digital Infrastructure (Flexibility and Durability)
Digital Platforms that support Business Models and Ecosystems
Digital Technologies, Clustering and Selection
Category 4 - Digital Trends and Competitive Intelligence »
Scanning for Competitive Intelligence
Spotting Mega Trends and Patterns
Data Analytics and Decision Making
Category 5 - Digital Interaction Channels »
Customer / User Insights
Human-Centred Journey Thinking
Collaborations and Open Innovation
Category 6 - Digital Maturity Impact and Value »
Value Spectrum Analysis (Rate of Change in adapting a new business Value Position)
Continuous Improvements (Novelty vs. Value from deploying new technologies)
Adaptive Planning (Leapfrogging Opportunities)
Scorecards and Key Performance Indicators (Efficiencies and Recurring Revenue).
Remember that Digital Maturity never stops
Therefore, applying the IKE Institute's Digital Maturity Framework will enable you to apply a systematic and robust set of analytics that will help you guide your next strategic business move.